SUNSET ON THE SQUARE 2024
MAY 5, 2024
APPETIZER AVENUE: 5:00 PM • DINNER: 7:00 PM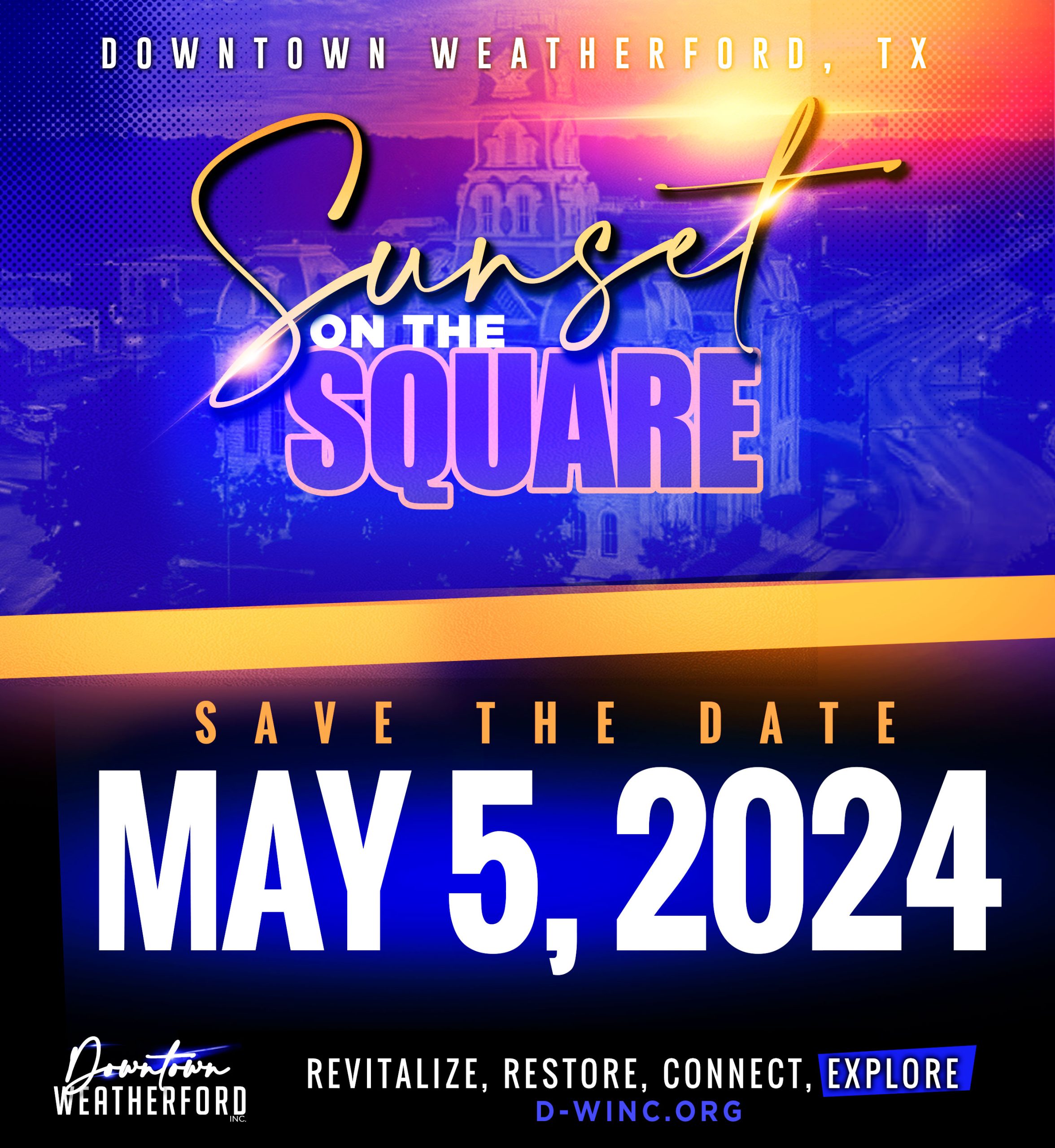 Join Downtown Weatherford, Inc. for the highly anticipated 4th annual Sunset on the Square.
Come enjoy fabulous food prepared by Weatherford's finest restaurants for an unforgettable outdoor dining experience.
FREQUENTLY ASKED QUESTIONS
Q: What is the attire?

A: Attire is Texas Business. (This is outdoor dining in Texas, in May. We recommend you bring a sweater and sunglasses).  The weather should be BEAUTIFUL. However, just as a precaution, we have established a rain date of Sunday, May 21st. Please no T-shirts and collared shirts preferred for men.  This is a nice night out Downtown, with friends.

Q: Where do we park?

A: There will be EVENT PARKING lots in close proximity to each quadrant, with the most parking available immediately adjacent to Appetizer Avenue.  Suggested parking options: B&H Feed, The Junktion, Trinity Country Real Estate, Sparks Antiques, PNC Bank, The District Court parking lot, The County parking lot at York and Dallas, Tates Total Training, Lenny's Local, East Church Street, Shep's, and HANDICAP parking will be available on Trinity Avenue (with a parking attendant).

*Shuttles will be available before and after the event

Q: Where do we get our tickets?

A: Each table host, ticketholder, and/or event sponsor is invited to pick up their ticket packet at Downtown Weatherford Inc's North Main Street office, located at 224 North Main.  In the ticket packet, you will receive a wristband for each guest, day of event instructions, and an event map.  Each wrist band is a ticket to the event.  The wrist bands are color coded in coordination with the restaurant at which you will be dining. Ticket Packet Pickups Will be held Friday, April 28th from 11-5, Monday, May 1st from 11-5.

We will also be happy to deliver tickets, in person on Monday, May 1st.  Just let us know if you prefer that option.  If you do not wish to retrieve tickets prior to Sunday, that is completely fine.  Your tickets will be available at the check-in table (at the corner of Austin & Trinity) on Sunday, May 7th. Please just advise your guests to check in and state the company sponsor or purchaser's name.