UPCOMING EVENTS
WEATHERFORD WINE & WHISKEY WALK – OCTOBER 1, 2022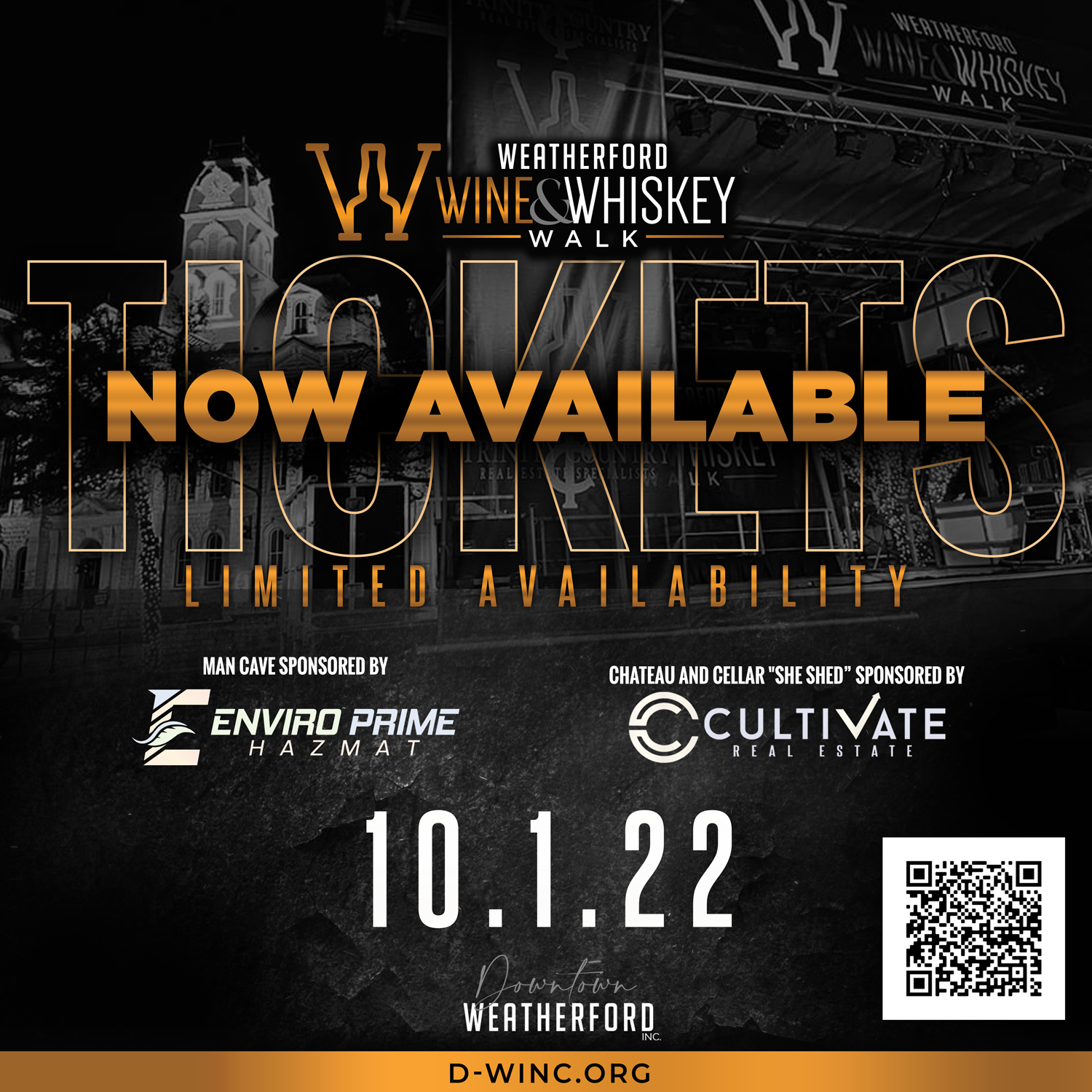 ADDITIONAL EVENT SPONSORS
What is Downtown Weatherford Inc's Wine and Whiskey Walk?
Join Downtown Weatherford Inc for a beautiful day in Downtown Weatherford on Saturday, October 1st.  In the Northeast quadrant, you will find the second annual Weatherford Wine and Whiskey Walk.  This event was a crowd favorite last year, and we are looking to bring even more entertainment and activities for ticketed guests!  There will be three different ticketing opportunities prior to the event on October 1st.  These ticket options include an Event Pass, a General Admission Ticket, and a VIP PASS.
The basic Event Pass will sell in advance and day of for $15.00.  This pass is for all guests 16 and over (children will enter free with parent or guardian), provides access to vendors, the Man Cave, The Chateau and Cellar, the concert, and all food trucks.  All guests age 21 and over will be able to purchase alcoholic beverages from any of the three bars, but this ticket does not include any tastings from the wineries or distilleries.
The General Admission Ticket will sell in advance and day of for $50.00.  This pass will include eight winery tastings, and five distillery tastings.
VIP includes:
 VIP only bar with 2 signature cocktails (available for purchase), exclusive
VIP Tickets include access to Fire Oak Grill for VIP only snacks, bites, and flights. Inside Fire Oak's VIP area, enjoy exclusive wine and whiskey tastings every half hour.  Included in the VIP ticket will be access to the BackStage club. Backstage club is a private seating area near the stage.  There will be snacks, tastings, and a full meal provided by Fire Oak Grill.
Be sure to get your VIP tickets ASAP, there are only 300 VIP tickets available!
All guests will have access to the Man Cave and the Chateau and Cellar "She Shed."
The Man Cave will have golf, corn hole hot shaves, beard oil, a mini arcade, exotic cars on display, and other fun games and interactive activities.
The Chateau and Cellar will have all the fun things for the ladies including chair massages, hat bar, hair feathers, permanent jewelry, charcuterie classes, and a grape stomp competition.