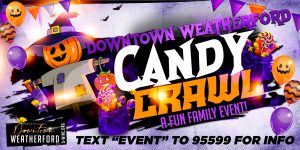 Put on your costumes, grab some friends, grab the kids, and safely 'crawl' your way through Downtown Weatherford shops and storefronts!
Mosey and meander your way around the square, visit the shops on York Avenue, and the merchants on Main, both North & South, directly off the square! 
We will keep you informed on designated parking lots and spaces, protected crosswalks, and provide an event map. Wally the Trolley will be rolling through Downtown, and shuttling folks to the Animal Shelter for their Trunk or Treat between 2 and 4pm.